Message & Philosophy

Message from the President
With all the challenges that we face in various countries and regions, we want to stick resolutely to the principle
that "less is more." By focusing only on the things that are really important — the things we see after throwing away,
reducing, or eliminating everything unnecessary — we can increase the value of the 1,440 minutes of time per day
that everyone is given equally. With this in mind, we have adopted a new motto for the QB House brand, "Fresh hair,
fresh mind." Making people who receive our haircut service feel fresher and more vibrant is what we deem to be "good work." We want to continue to evolve and improve the quality of our techniques and services so that the many people who find it troublesome or unpleasant to have their hair done can enjoy their time in comfort and with peace of mind. Our corporate goal is to become a group that can seriously address the growth of our people,
and to be a harmonious team that values relationships of trust among co-workers who can support one another in making their work more pleasant and satisfying.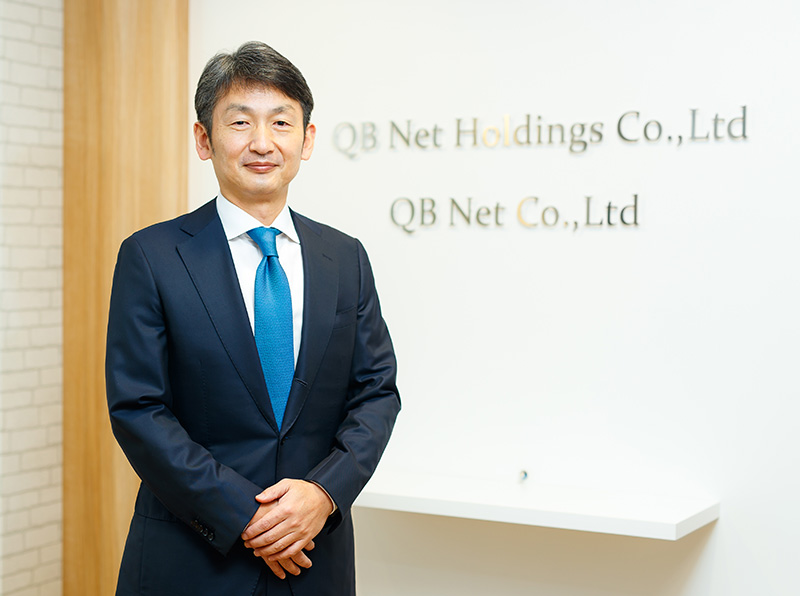 President and CEOYasuo Kitano
At the same time, in a society where various problems are becoming more apparent and serious, we sense the steady
expansion in the scope of roles and responsibilities that companies have to play in society. We will take a leadership
role in helping to solve problems in order to realize a more sustainable and fairer society that is less damaging
to the environment. To demonstrate outstanding leadership, it is also important that we clarify our corporate vision
of "what (purpose)," "where (future image)," and "how (values)," as well as our "brand identity," or the aesthetic sense
of our brand. We will stay on the same path for the next 10 years, valuing empathy with the people we work with and,
as a vital presence in society, choosing who we live for (or who we try to satisfy) and who we want to be. Our goal is to become the most sought-after haircut chain
in the world by providing uniform, reliable, and simple services
that make our customers say "thank you."
The people we work with are the ones who enhance the value of time.
We want to grow into human beings who are trusted and respected by customers and colleagues,
and evolve day by day into an organization that can befriend the world with a wonderful smile (of gratitude).
To choose together, and to be chosen by customers and friends
[Words, attitude, expression, thoughts]