Basic Policy on Sustainability
People
▶ Protect hairdressers from health risks
The use of chemicals, such as for hair coloring, can cause inflammation to the scalp, including itching, pain, rashes, and swelling. This risk is shared by hairdressers who offer the service, and it is not uncommon for people to develop allergic rashes on their hands and arms due to the frequent use of chemicals in treatments such as shampooing, hair coloring, and perms. If rough hands become severe and cause strong itching and pain, some hairdressers are forced to give up their job. In this respect, our Just Haircut salon, which neither uses chemicals nor offers hair washing, has become an option for hairdressers as a safe and secure workplace that can protect their health.
Furthermore, we, the QB Group, have developed our own cutting techniques that include the hair-clipper method that can minimize the burden on the hands and arms, such as tenosynovitis, and have provided opportunities to share the techniques with our members. Through these efforts, we are preparing an environment that enables hairdressers to pursue their careers for a long time while enjoying good health.
Support for self-reliance of hairdressers
A lot of people obtain a license as a hairdresser in order to "become a technician in the services industry" and thus lead a secure and stable life. However, once you have obtained the license and stepped into the real world, you will find the techniques that you learned in school insufficient to get your job done. You will have to acquire practical haircutting skills. Then, you will be told "Learn by watching your master's work" or "Nobody teaches you. Copy and internalize your master's techniques." This advice refers to a non-systematic and hands-off approach. There are very few workplaces that offer opportunities for people to learn techniques systematically. Facing the reality that it will take many years to acquire haircutting techniques and become an accomplished hairdresser, many people give up and seek a job in a different industry.
We, the QB Group, have established "LogiThcut PROFESSIONAL STYLIST SCHOOL" as a body that provides original training curricula to help novices acquire the haircutting techniques required for real-world hairdressers in a short period of time. It is offered at our bases in Japan and overseas in a proactive effort to make our staff professional and self-reliant.
Evaluation system that leads to job satisfaction
In order to allow anyone to work with job satisfaction, a system is required for evaluating workers correctly according to their ability. However, in the service industry, where frontline staff work as a group in different stores, your personnel evaluation often depends on the opinions and thinking of senior members whom you work with. You may feel trapped in a strong apprenticeship system, or you may find yourself in a sales-oriented culture. Many cannot endure fierce competition and quit their job. The QB Group is committed to implementing a system for evaluating frontline staff so that they can continue to work with a variety of options, while mastering expertise in the service industry or as technicians. Specifically, we have clarified our internal qualification system for technicians and managers and have had in place a system that gives employees a fair opportunity to take up career challenges.
Environment
▶ Kindness for precious Earth
QB HOUSE has developed an original device named "Air washer" to offer a service of vacuuming away hairs after a haircut instead of a service of washing hair. Shampooing not only uses clean tap water but also causes dirty water after washing hair each time. The dirty water requires lots of electricity for a purification plant to turn it into clean tap water again. Hair washing wastes not only precious water but also electricity. What is worse, a hand dryer is typically used to dry wet hair, and this consumes more electricity.
Imagine you visit a hair salon once a month. First, the hair salon shampoos your hair for five minutes. After a haircut, you will be shampooed again for five minutes. Then, a professional dryer is used to dry your hair for ten minutes. The service that you receive theoretically* generates 40.56 kg of CO2 a year.
We can proudly say that QB HOUSE is an Earth-friendly hair salon that suppresses CO2 emissions.
(*1. Source: The websites of the Japan Valve Manufacturers' Association and of the Ministry of the Environment)
A service model, based on water-resource conservation and with decarbonization as the premise
Of all the water on Earth, 99.23% is found in seawater and glaciers. The only water available to humans is the 0.73% that is groundwater and the 0.01% that is river and lake water, and it is said that global warming and population growth will cause severe water shortages for 40% of the world's population by 2050. In addition, purifying polluted water requires a lot of electric power, but this also generates a lot of carbon dioxide and further promotes global warming. QB Group employs a business model that not only saves resources by not using limited water resources, but also contributes to the realization of a decarbonized society by not discharging wastewater.
Utilize limited resources by reusing
Original unit furniture that is produced in a way that gives the top priority to reducing as much burden on hair stylists as possible. On top of this, by simplifying the structure to the limit, we make it easy to remake and reuse the furniture.
We used to give the combs we used to the customer. However, since May 2021, we have shifted to a method of cleaning and disinfecting them for reuse. Moreover, we reduce waste volumes by resharpening hair clipper blades.
Furthermore, in an effort to reduce waste from wigs (mannequin heads) for practicing, we are given wigs by hairdressing schools, free of charge, and use them for trainees to improve their skills.
Twenty-three QB House salons (as of September 2021) have switched electricity for their operations to renewable energy produced by wind power stations in Iwate Prefecture via electricity-generating retailers. By using energy from Iwate Prefecture, which has forests covering approximately 80% of its land area, we can achieve a sustainable business by paying attention to our environmental impact while protecting the richness and comfort of the people who live there.
The electricity used comes from Himekami Wind Park, a wind power plant in Morioka City, Iwate Prefecture. The power output of 18,000 kW is produced by nature, thanks to the power of the wind blowing through the prefecture's densely wooded land. The 23 salons under contract consume about 320,000 kWh of electricity annually, which is equivalent to approximately 11,600 cedar trees absorbing CO2.
Community
▶ Become a receptacle for social needs by changing the organization
In the hairdressing industry, in which the master-apprentice relationship remains dominant, there is no culture of teaching novices the skills of cutting hair and attending to customers. Therefore, lots of women with a hairdressing license give up their careers to become housewives. For such people and job seekers from different industries, we opened an in-house haircut school "LogiCut PROFESSIONAL STYLIST SCHOOL" in 2012. A full nine years have passed since then, and over 500 people have completed the curriculum. The school has become a receptacle for social needs.
In addition to the skills of cutting hair and attending to customers, trainees grow as human beings and learn how to build relationships with colleagues through training programs. Such an atmosphere leads to the development of employees with a hospitality mindset. As a result, more and more people are willing to attend charity events, hands-on workshops and lectures at schools year after year, fostering not only a teamwork spirit but also job satisfaction.
A high turnover rate in the industry of 30%* in the first year.
In the past, we were in the same situation, but as a result of the concerted efforts of the company and its employees to create a good organization, the QB Group, which has more than 2,200 hairdressers in Japan alone, has become one of the leaders in the industry in terms of its group turnover rate and the cumulative number of employees receiving long service awards.
(*Source: the Ministry of Health, Labour and Welfare "Job Turnover Rate of Recently Employed Junior College Graduates, etc. by Industry ")
Create an employee-friendly working environment
The QB Group aims to create an employment system that is friendly to all barbers and beauticians, regardless of gender, age, or LGBTQ status, and to promote the discovery and employment of sustainable human resources. We will continue to create a rewarding work environment by enabling a variety of work styles, including the introduction of optional holidays and returning to work after maternity or childcare leave.
Activities raising awareness of children's diseases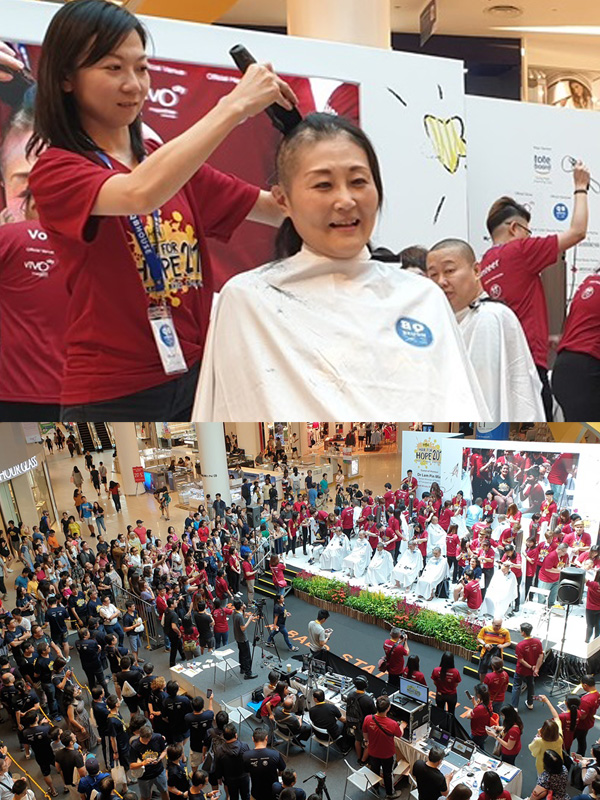 Sponsored by the Children's Cancer Foundation, Hair for Hope is the only shaving event in Singapore that seeks to increase awareness of childhood cancer and raise financial support for treatment and research. The QB Group will continue to support this event as an opportunity to show society how all the participants have had their heads shaved equally short, with the single wish of putting and keeping a smile on the face of every child with cancer.
QB Future Workshop (Miraijyuku) Initiative
A hairdresser is always among the top 10 careers that elementary school girls want to be. In order to make the details of the job well known, we support "Job Yearbook," published by the Asahi Shimbun (a newspaper). This "Job Yearbook" is distributed free of charge to elementary and junior high schools all over the country, and is also sold at bookstores nationwide. We invite children from children's homes to our salons for gratis haircuts and give them hands-on experience in cutting hair with hair clippers in an effort to make them interested in the hairdressing business. Moreover, as part of the class of integrated study in junior high schools, we proceed with the initiative in which we teach what working is through talking about the job of a hairdresser. We also visit hairdressing schools to offer lectures on the techniques of the QB Group in such a way that students can experience the fun of cutting hair first-hand.
These activities have become venues that tell children in society what an occupation is. Our efforts not only have been highly appreciated by children's homes and school teachers but also act as a catalyst for inspiring children to be hairdressers when they become adults ten years or so later. At the same time, the activities have led us to build up our experience in instructing.
Governance
▶ Be just and fair in any era
We have been able to mark a quarter of a century since our founding in 1995 thanks to your kind support.
In society after the collapse of the bubble economy, which is called the "lost 20 years" or "lost 30 years" in Japan, the working environment and the planet's environment have changed remarkably. In the wake of this, ways of thinking and perception in society altered, causing a great number of laws and regulations to be enacted anew or revised.
As we have done in the past, we are determined to swiftly respond to changes in society and laws, and thereby perform business management with an emphasis on compliance with laws and regulations.
We always endeavor to pursue sound corporate management that can deal with changes in society without delay. For details, please refer to the Corporate Governance page. (http://www.qbnet.jp/ir/management/governance.php)
In order to appropriately disclose information in compliance with laws and regulations for timely disclosure, we have a disclosure policy in place. (http://www.qbnet.jp/ir/policy/index.php)
Establishment of Workplace Environment Hotline
We have set up a Workplace Environment Hotline for anyone to consult at any time regarding issues that are difficult to discuss or resolve in the workplace, for example, power harassment, sexual harassment, etc. The hotline includes an internal consultation service that connects to a member of our General Affairs and Human Resources Department, and an external consultation service that connects directly to a legal adviser. The contact information is posted on our portal site for employees to access at any time.
Intellectual property management
As we are developing our business overseas, we have a large amount of intellectual property in and outside Japan as part of our risk management. We have 89 registered trademarks, six registered designs, and two registered patents. It may be uncommon for a hairdressing company to register a design or patent.
Response to natural disasters
In the event of a natural disaster, such as an earthquake, typhoon, torrential downpour, or heavy snowfall, it is essential to take advance measures and make quick decisions. Our first priority is physical safety, and we strive to ensure the safety of our employees by fully informing them in advance of the flow of reports, communications, and advice, the emergency communication methods, and how to deal with shifts in the event of a disaster.